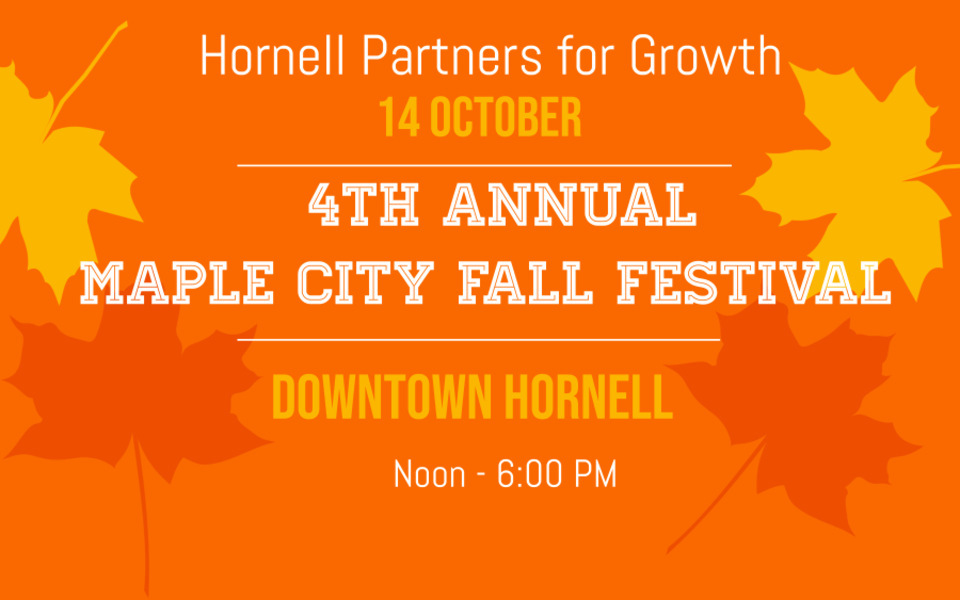 2023 Hornell Maple Fall City Festival
4th Annual Maple City Fall Festival  — October 14, 12:00 PM – 6:00 PM
Worried about parking?  Don't be, this year we are providing two HAT Buses that will be traveling around Hornell from 11:30 – 7:00, with the utilization of the Hornell High School & the old St. James Parking lots as our Festival Parking with the shuttle coming by every 15 minutes; the drop-off/pickup location at the festival for this bus will be Center Street Bus Stop.
We will also have one bus going to/from Alfred State College every hour, pick at Alfred State is at the "Book Drop" on Main & West University Street, with a drop-off/pick-up in Hornell at Burger King and will be on the hour, allowing for 30 minutes to get to Hornell & 30 Minutes back to Alfred with wait time for anyone catching the bus.
Craft Vendors:
We have an estimated 50 Craft Vendor spots, you will be throughout the area's, spots will be on a first come basis. Anyone who would like to be specifically in the kid zone area please write that on your application. This area will have all kinds of kid things going on so if your product is geared towards children you will want to be in this area.
$50.00 Per 10 by 10, if you need more space you will have to pay for an additional spot as these are limited. No Electric for Craft Vendors at this event
if you are unable to print from the link, Email hornellpartners@gmail.com for an application
Craft Vendors:
Hornell Partners for Growth
Putnam Game Trailer
LeafFilter North, LLC
HeatSmart Flx South
Chaos and Class – Spot 1
Chaos and Class – Spot 2
Paint Me Grateful (Color Street)
NY Acrylic Bath, LLC
Toby's Treasures
Wall J's
Missy's A OK Mystical Creations – Spot 1
Missy's A Ok Mystical Creations – Spot 2
Hillside Children's Center
Spotlight Theater
First Baptist Chruch
Girl Scouts of NYPENN Pathways
Pregnancy Resource Center of the Valleys
Maple City Physical Therapy
3-Dog Design
Arrow Creek Laser – Spot 1
Arrow Creek Laser – Spot 2
Rochester Honor Flight
Scentz By Shawn (Pink Zebra)
G.I. Enterprises
Sparkling Gems with Tamara (Paparazzi)
MacraMade on the Farm
E.T. Designs
First Heritage Federal Credit Union Spot 1
First Heritage Federal Credit Union Spot 2
Papa's Woodworking
Graphic Rats Studio
The Spice Project
Hornell YMCA
Genesee Woodworking
Gavitt's Resin Art & Woodworking – Spot 1
Gavitt's Resin Art & Woodworking – Spot 2
Shellys Hummingbird Studio LLC
Badger & Butterfly Earth Creations — Face Painting
Hornell Area Humane Society
CCS/L – Healthy Families
CCS/L – Emergency Services
3D Fox Creations
Windy Ridge Farm
Comfort House of Allegany County
Get Freezy with it
Kerman's Honey Farm
Duke of Dough LLC
MJ's
Scentsational Scentsy with Beth
Dogwood Floral Crafters
Friends of Hornell Public Library
Stone Acres Alpacas
Garcia's Barbershop – IX for Men
NYSEG
Trillium Health
Cosilmano & Fearai Olive Oil Company
AMVETS Riders 245 – 22 a Day
Meshen Around
Teddymuff Designs
Olixers Emporium
HPG Businesses / Non-profits / School Clubs / etc.
Free – Contact HPG for Application
Food Vendors: $100.00 – No electricity this event – STOP… food vendor spots full…. except looking for PIZZA, Fudge, Candy Apples… anything NOT listed below… call me first 607-324-9786
Buckn Good Food Truck – Tater Tot Creations
Lemon Shakers – Flavored Fresh Lemonade
Putnam Amusements – Funnel Cakes, deep-fried Oreos, cotton Candy, Popcorn, Snow cones, Candy Apples, Drinks
David Concessions – Sugar Waffles, fried dough, french fries, slushies, bottled water, & Pepsi
Red Osier Food Trailer- Beef on Weck, Macaroni Salad, NY Chips, Cheesy Eddies Cheesecake Slices, Bottled Water, Soda, and energy Drink
Sprinkle This Cakery – Baked Goods
Cajun – Sausage, Fry's, Blooming Onions, Deep fried everything, burgers,
M&M – Popcorn – Cotton Candy
 Bands
Noon – 2:00 – The Faithless Beauties
Turnover – 2:00 – 3:00 -Music from Sound Guy
3:00 – 6:00 – Black Robin Band Black Robin Band | Finger Lakes New York | Naples, NY
Free Kids Activities:
22′ Two Lane Slide – Free
Avengers Bouncer – Free
Frozen Bouncer – Free
Adrenaline Rush – Free
Horse & Wagon Rides -Free – Will take donations – 100% of donations will go to the Hornell Area Humane Society – across Pizza King on the corner of Hakes Ave, ride will go down Hakes, up Genesee, to Collier Street, to Main St.
Speed Sketchers Caricatures – Free –  Will take tips – will go to the worker – Will be out of the HPG Tent, the line will go down Church Street
Train Ride – Will take tips
Parking Restrictions: Start time listed below, The streets will reopen when all festival activities have been cleared on Saturday, Oct 14, sometime after 7 pm. 
Main from Seneca to Church Street & Broadway – 4:00 pm // Main – Church to Center Street – 9:00 pm // Broadway Mall – 4:00 PM
Restaurants in the HPG District open on Saturdays, you are more than welcome to bring food from any location and sit in the free open seating area under the tents and enjoy the music.
Paddy's Pub
Texas Cafe
Pizza King
Classey Cafe
Billy Schu's
Stearns Chicken
Taco Bell
Burger King
Super Wok
AJs Convenience store
Giovanni's
Italian Villa
Pat's Pizzeria
Railhead Brewing Company
Sakura Sushi Buffet
Applebee's Grill + Bar
McDonald's
The Scoop
Yum! Frozen Yogurt
Brandy's Cup of Joe
Marino's
Subway
Volunteers –
Any HHS Student who would like to get your required volunteer hours done please Email hornellpartners@gmail.com your name & phone number.  Please see Facebook event on Dec 31, 2023 for a list of all students who have signed up.