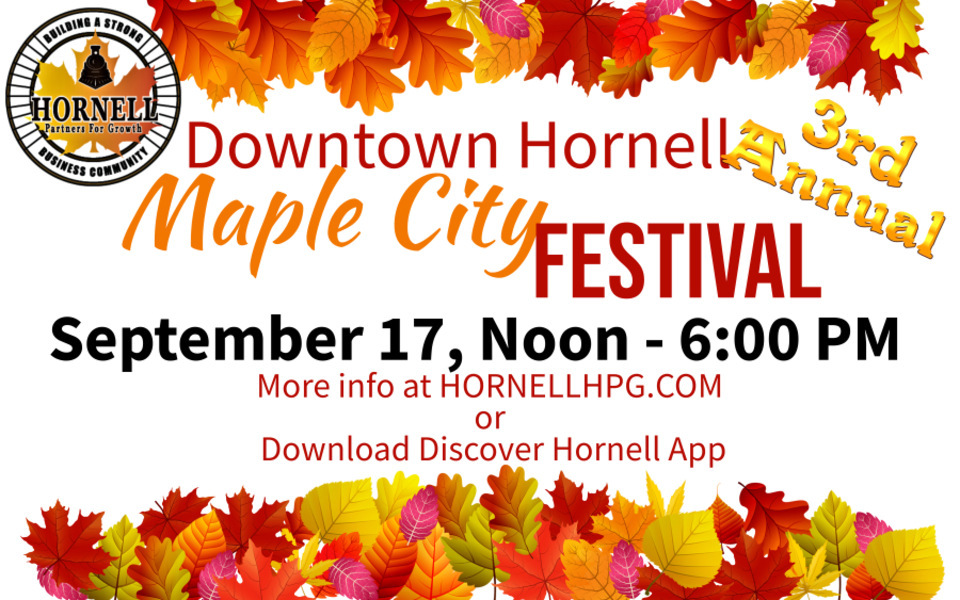 2022 Hornell Maple City Festival
Craft Vendors:
We have an estimated 50 Craft Vendor spots, you will be throughout the area's, spots will be on a first come basis. Anyone who would like to be specifically in the kid zone area please write that on your application. This area will have all kinds of kid things going on so if your product is geared towards children you will want to be in this area.
$50.00 Per 10 by 10, if you need more space you will have to pay for an additional spot as these are limited. No Electric for Craft Vendors at this event
Email hornellpartners@gmail.com for an application
HPG Businesses / Non-profits / School Clubs / etc.
Free – Contact HPG for Application
Food Vendors: $100.00 – No Electric this event
This is a list of free things to do at the Festival and a list of the organization or group who is assisting us in managing the lines and will have a donation box on their tables.  A donation is not required to take part but is appreciated
Bounce House – Hornell Bible Church
22′ Two Lane Slide –
Photo Booth –
Hay Rides – Hornell Area Humane Society
Train Rides – St. Ann's Academy
Obstacle Course – Hornell YMCA
Car Show:

Cruize'n Time will host our Car Show at the Community Bank on the corner of Seneca & Genesee Street.
Registration is 8 – 12, Awards at 3PM, Car entry is $10.00
Free to attend
 Bands
Meet Cutters Union – 12:00 – 2:30
Shyloc Fox – 3:00 – 6:00
Craft Vendors: Updated 9/7
Maple City Physical Therapy
Hornell YMCA – Information handouts
Voss Studio – Tumbling
Cornell Cooperative Extension – HeatSmart FLX South
Spotlight of Hornell – Popcorn
State Farm Insurance
Putnam Amusements – Duck Pond, Cross Bow, Bust One Balloon Games
Creatively Equipped – Resin/Epoxy tumblers, Badge reels, earrings, Coasters, Pens & Pop Sockets
Missy's A Ok Mystical Creations – Handmade Jewelry, Resin Items, Mugs,
Martisan's Stain Glass – Glass Art
LeafFilter North LLC – Information Booth
Exotic Eyewear – Sunglasses
Teddymuffs Designs – Custom Pins, T-shirts, Keychains, cards, video game related merchandise
Toby's Treasures – Sterling Silver Jewelry and Water Balloon YoYos
Wally J's Concessions – Novelty kids items
Punky Py – handcrafted & wholesale punk jewelry and accessories
Wickless with Carrie – Pink Zebra – Electric Wax Burners & Wax
Paint me Grateful – Color Street – Nail Polish Strips
David's Concessions – Shirts, Hats, etc.
Apple Creek Alpaca's  – Items made with Alpaca Yarn & Fiber, Hats, gloves, sweaters, toys, etc
Arrow Creek Laser – Laser engraved wood signs, Puzzles, coasters, Mugs, etc.
Tara's Rusty Nails – Pumpkins, Scarecrows, Witch signs, Candles, etc.
The Kurtz Family – Wooden Crafts, Toys, sewing & Yarn Crafts
Chaos & Class – Clothing, boutique items, accessories, Toys, etc – 2 spots
Cow Patty Apparel – Tees, Tumblers, Hats, Keychains
Lorow Woodworking – Wood craft, bird feeder, banks, cell phone holders, etc.
Rose Lane Bags – Waxed Canvas Items , bags, purses, totes, embroidered hand towel
Amazing Poshabilities – Posh skincare products
Uforia Science – Cellular Health, Customized Nutrition info
First Heritage Federal Credit Union– Hand out information
Cory's Crafty Corner – Wooden Door Signs, Porch signs, glass blocks, Tshirts
New Hope Community Center – Information hand out
Jerry's Lunch Concessions – Kids Toys, Light ups, Balloons, etc.
Stoney Acres Alpacas – Alpaca products, hats, mittens, socks, etc.  Hand felted toys, wooden items
The Pen Man – Wooden pens, bottle stoppers, candle holders, rings, rolling pins, etc.
Author Maria Lei Antonio – Children's Book
Theresa's Crafts – Decorative homemade items, Halloween, Christmas, Baby blankets, etc.
Miss Natale's Dance Center – Dance Wear & info on classes
Scentsy – Wax, Warmers, Cleaning & laundry products, etc.
Oak Orchard Community Health – Free giveaways
Garcia's Barbershop
Smash & Paint Hornell
Food Vendors:
David's Concessions – Fried Dough, Sugar Waffles, French Fries, Slushies, Ice Cold Drinks,
Putnam Amusements – Funnel Cakes, Deep Fried Oreos, Cotton Candy, Popcorn, Snow Cones, Candy Apples,
M&M Concession – Cotton Candy, Snow Cones, Pop Corn, Cold Drinks
Buckn Good Food Truck – Tater Tot Creations
Cajun – Hamburgers, Hot Dogs, anything Fired
Restaurants in the HPG District open on Saturdays, you are more than welcome to bring food from any location and sit in the free open seating area under the tents and enjoy the music.
Paddy's Pub
Texas Cafe
Pizza King
Classey Cafe
Billy Schu's
Stearns Chicken
Taco Bell
Burger King
Super Wok
Michael Johns
Giovanni's
Italian Villa
Pat's Pizzeria
Railhead Brewing Company
China Buffet
Applebee's Grill + Bar
McDonald's
The Scoop
Yum! Frozen Yogurt
Brandy's Cup of Joe
Marino's
Rico's Pizza New York Style
Subway
Volunteers –
Any HHS Student who would like to get your required volunteer hours done please Email hornellpartners@gmail.com your name & phone number.  I will need volunteers on September 16th & 17th, specific hours will be updated as we get closer to the event.  I will confirm what hours everyone wants to work as we get closer.