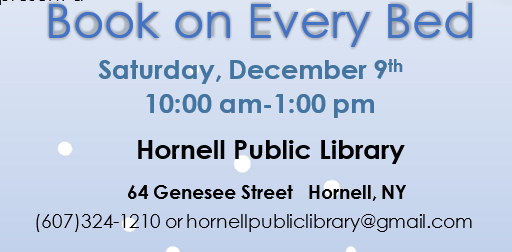 Book on Every Bed
The Hornell Family Resource Center, Hornell City School District, & the Hornell Public Library present A Book on Every Bed
Please join us for a special winter holiday community literacy event!  The parents will be choosing and wrapping a book for each of their children while the children will enjoy a special story time and winter-themed crafts!
Refreshments provided by the Friends of the Library
Create a New Family Tradition! After your children have fallen asleep on Christmas Eve or another winter holiday, place a special gift-wrapped book on their bed.  Your children will awaken to find a present they can open right away beginning a special reading tradition they will love.  Plus, it will keep them in bed just a bit longer!