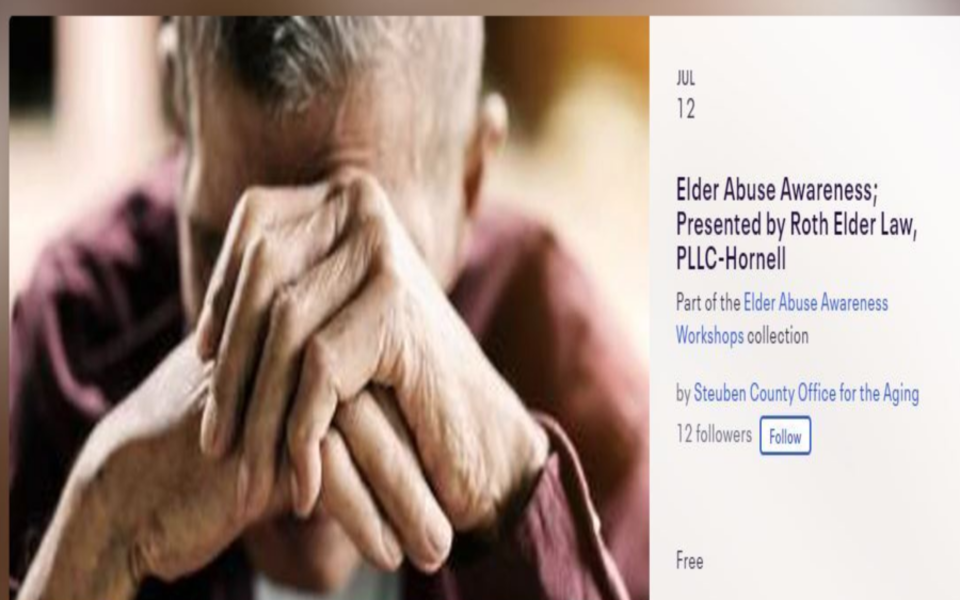 Elder Abuse Awareness Workshop – Office for the Aging
6 Classes being offered around Steuben
Jun 23 – Bath
July 7 – Wayland
July 12 – Hornell
July 22 – Hammondsport
July 26 – Corning
Aug 3 – Campbell
Roth Elder Law, PLLC is presenting an Elder Abuse Awareness workshop six different times throughout Steuben County. Please feel free to register for a workshop near you. To register, please click HERE and select the day you would like to attend.
Elder Abuse Awareness – what you need to know about Elder Abuse to protect yourself and your loved ones.
Elder Abuse is one of the fastest growing crimes in America today. There are several types of Elder Abuse and learning about them may just help you spot them so you can protect yourself and your loved ones.
Learn 5 types of Elder Abuse.
Discover general risk factors and who are most likely to commit Elder Abuse.
Learn warning signs of each type of Elder Abuse.
Learn how to protect yourself and others from becoming victims of Elder Abuse.
Discover what legal documents you should have in place to help protect you from Elder Abuse.
Please share this information with coworkers, family, friends, or anyone you know who might benefit from this relevant presentation!