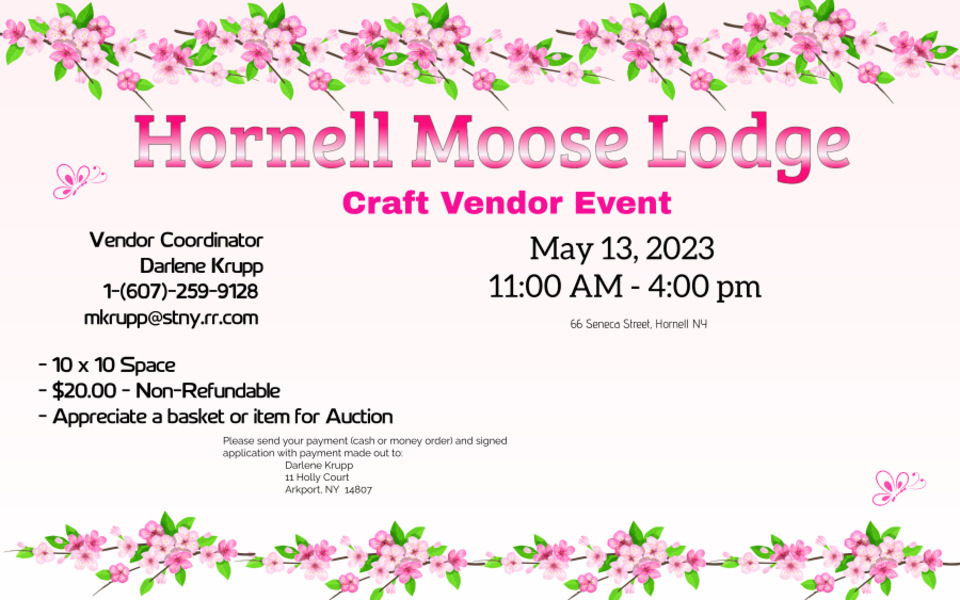 Hornell Moose Lodge Craft Vendor Event
Hornell Moose Lodge Craft/Vendor Show Outside
Moose Lodge, 66 Seneca St, Hornell, NY 607-259-9128
Saturday, May 13, 2023
11:00 a.m. till 4:00 p.m.
Number of Spots (10 x10) _________________ x $20.00 ____________
First come first serve                Cash or Money Order Non-RefundableHornell_Moose_ Lodge_Vendor_ May_ 13
You can park next to building to unload and setup at 9 am on Saturday, after you are unloaded, please move vehicle to allow parking for customers.  If you have any questions, please feel free to e-mail me at mkrupp@stny.rr.com or call me at 607-259-9128.  First come, first serve, will only allow one vendor per item and one item per table for Direct Sales.  Please bring your own setup.
I agree to the terms set forth in this contract/application.  I hereby release all officers, members of the Moose Lodge from all liability, loss, legal fees and or other expenses whatsoever resulting from personal injury, including death, property loss or damage to myself, my employees, agents, and guests.  I understand I am responsible for my own sales tax and insurance.  I further agree to the terms, regulations and requirements set forth in this application for the 2023 Moose Lodge Vendor Show.