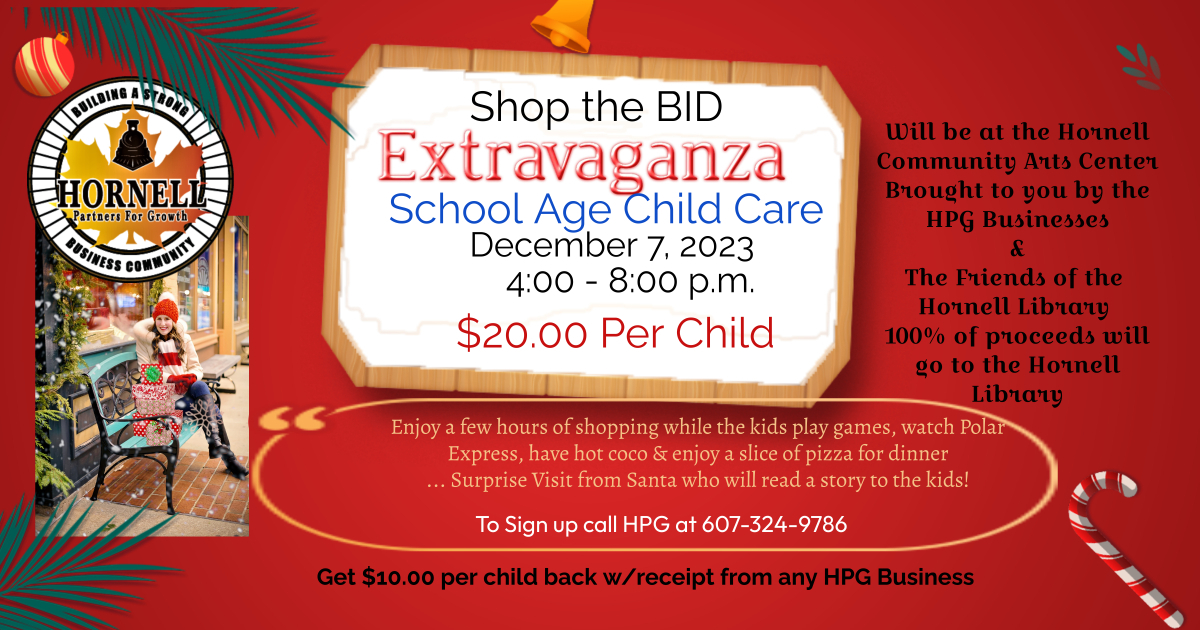 Shop the BID Extravaganza
Do you have School Age Kids 5 – 15 (older kids welcome, we cannot take younger ones)? Are you looking for that night to get shopping done without the Kids? Then Contact HPG and sign up for the 2nd Annual "Shop the BID Extravaganza"!
Cost is $20.00 Per Child – Cash to the Friends of the Library the night of. Bring Back a receipt from ANY HPG Business and get $10.00 Back per child!
Meaning.. if you have 3 kids.. The cost is $60.00 for 4 hours of Day Care… If you come back with a receipt to any HPG Business.. it will only cost you $30.00. 100 % of the proceeds will go to the Friends of the Hornell Library to put back into events for your kids!!!
Not sure what businesses are in the HPG District? Download the Discover Hornell App on your phone or go to 
hornellhpg.com.
What are your kids doing for 4 hours?
— Games
— Coloring Activities
— Watching Polar Express
— Hot Coco & Cookies
— Pizza & a Water for Dinner
— Even a surprise visit from a Holiday Superstar around 715 for Story Time
You must call HPG to sign up & set up a time to come fill out some paperwork, Contact sheets, and Photo / Facebook Video Waiver Letters. Note, HPG Will NOT take any prepayments/payments the day of! You must pay the Friends of the Library either before the event or at the event.
Refunds will be given when you pick up your kids!
A list of Sales around town this night will be posted here as information is received