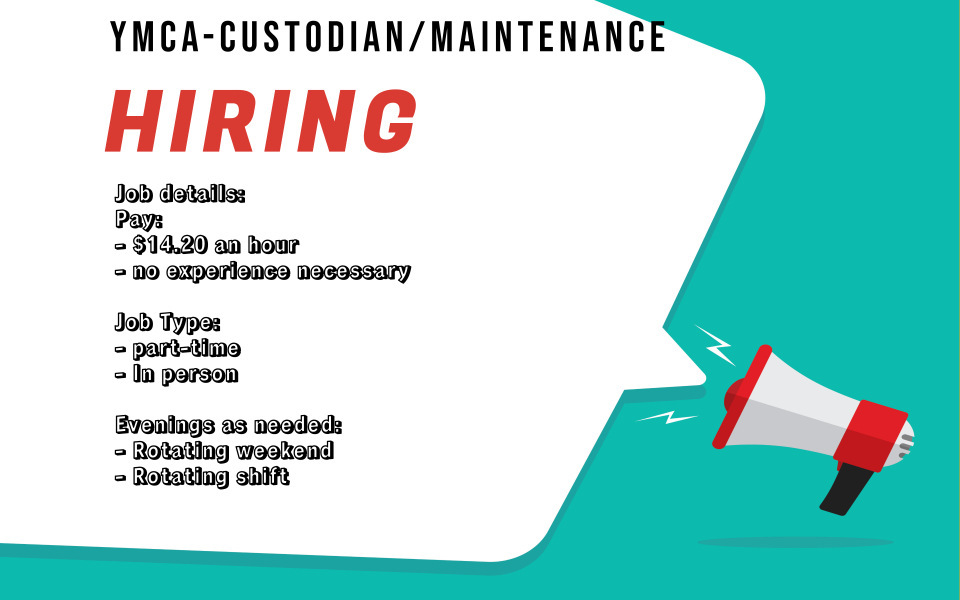 YMCA-Custodian/Maintenance
Shift and Schedule
Weekend availability
Night shift
Day shift
Monday to Friday
Job Description
Cleans and sanitizes assigned areas, including such duties as mopping, dusting, and trash removal. May complete duties related to window washing, meeting set up, snow removal, groundskeeping, and other related responsibilities.
Major Duties/Responsibilities
Ensures y is attractive and clean by completing all duties and maintains upkeep of assigned area and equipment.
May perform wet and dust mopping, dusting, trash removal, recycling, window washing, painting, vacuuming, seasonal activities dealing with lawn care and snow removal, and general cleaning.
Required Qualifications
Must be at least 16 years old.
Six months or more of related experience preferred.
Knowledge of cleaning methods and equipment preferred.
Basic understanding of cleaning methods and equipment preferred.
Basic understanding of upkeep and care of equipment preferred.
Ability to read and interpret instructions, procedures, manuals, and other documents.
Ability to report and maintain maintenance requests.
Within 90 days of hire, completion of Child Abuse Prevention Training.
CPR/AED and First Aid certification preferred.
Familiarity with YMCA preferred but not required.
Must be a self-starter, team player, reliable, and have an eye for detail.
Work Environment & Physical Demands
The physical demands described here are representative of those that must be met by an employee to successfully perform the essential functions of this job.
Reasonable accommodations may be made to enable individuals with disabilities to perform the essential functions.
Sufficient physical strength and agility to carry out essential duties.
Ability to erect and stand on ladders and platforms at heights up to 30 feet.
Ability to work with paint, cleaning equipment, chemical compounds, solvents, cleaners, and solutions in dry, liquid, powder, spray, and aerosol forms.
Ability to paint, clean equipment, and operate motorized equipment as needed.
Ability to work in conditions that will create dirt and dust.
Ability to perform essential maintenance to facility or equipment which may involve, but not limited to the following activities: semi-reaching to full-reach overhead; crouching; kneeling; shoveling; carrying, working in narrow and/or confining spaces: underground, overhead, and at ground level; twisting of the waist, shoulders, and legs; and lying on stomach and/or back.
Job Type: Part-time
Pay: From $14.20 per hour
Benefits:
Employee discount
Flexible schedule
Retirement plan
Schedule:
Day shift
Monday to Friday
Weekend availability
Ability to commute/relocate:
Hornell, NY: Reliably commute or planning to relocate before starting work (Preferred)